HAPPY NEW YEAR


er...okay...happy March..

.
from My Dad's Truck!
We hope 2007 is a healthy, happy,
and prosperous one for you!

We're busy busy busy these days with band stuff as well as our own projects. Recently - since last summer, really - we've been working hard to perfect some of our original material. Here are some of the cuts we've been working on -
have a listen, and we hope you enjoy them!

One of those side projects is a coffee house that Bill has been working on with our friend Carl. Click here to check out the new Roots Music Coffee House! It's not affiliated with My Dad's Truck, but one of the Truckers is involved, so we hope that you will support it. They've got some GREAT acts lined up - don't miss 'em!

Finally, we hope you'll check our calendar often. We love to see you at shows, and we've got quite a few lined up through the end of July. Check back often - we'll be adding them as we get them!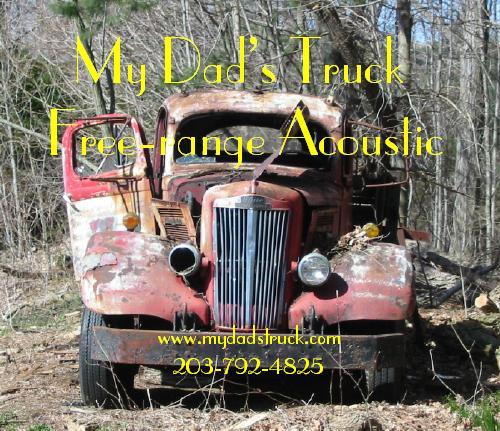 Professional affiliations:
North American Folk Music and Dance Alliance [NAFA]
Northeast Regional Folk Alliance [NERFA]
Tribe's Hill - Kindred Folk
Calendar
History
Links

On Saturday, 14 October, we played a private show in Redding CT - a barn burning! Check out a few pics HERE!

~ sign our guestbook ~
~ view our guestbook ~
~ view our old guestbook ~

EMAIL ANNOUNCEMENT - PLEASE READ!!!!!
ADDITIONAL EMAIL ADDRESS IN EFFECT 9/8/06
PLEASE ADD mydadstruck@yahoo.com TO YOUR ADDRESS BOOK TO INSURE THAT WE ARE NOT SPAM!!!

Each of us may also still be reached at *ourname*@mydadstruck <dot> com - - but we have been having trouble reaching YOU. We hope that this will insure that you ALL get every single email that we send out, because we love you and we want you to hear from us. Really.